Great Swan Peace Cathedral is hovering in my consciousness constantly now. Who will help? How to do each little element that has to happen? Daily calls and discussions….looking for the right skills, the right people who will respect  the deeper nature of this work.
Much is unfolding. People connections of all kinds are happening. Deeply good people are helping already in related ways. Inspirations flow with an uncommon effulgence accompanied by profound Joy, and thus the vision of Great Swan grows more full and clear in my consciousness.
I have shared little story of how Great Swan came as a calling to me with many  people. It is now a web page of its own with a detailed version of the story.  Construction will begin in a few short weeks! There will be tons of welding of metal art for it  and many months of mosaic stained glass window work.
Yes, a good start has been made on the metal. Those are details of finished metal in the plan you see. But oh, so much more is yet to be made! I feel the aging of my body, its struggles and the great demands it carries already. I have to constantly go beyond fears and limitations in mind and body, as does Loren…daily. The financial means to cover this also have to come. This is a fearful undertaking were it not for the surrender of all in Trust I practice. This is a great Leap of Faith, the Holy Jumping Off Place for me.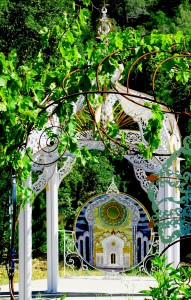 And then there are these magical moments of providence. Mike is one of those neighbors among several in the neighborhood that weld art. I have been telling him about Great Swan for quite a while. Today, he suddenly GOT IT, that this was something pretty BIG in many more ways than one, something that he HAD to be part of. "Count me in!" he said, "especially when it comes to the art welding". You have to know what music this was to my ears!
Actually Mike taught me to weld on Metal Hymn, my first bigger welding project. He helped sooooooooooooo much! He earned our love and gratitude forever.
Then when the lady of his life first came to Dandelion and saw Metal Hymn, she announced that was where she wanted to get married, not even knowing the big part Mike played in it. And so they were married in the place Mike had worked so hard to help create….One of those special little miracles that just keep happening for people who volunteer on Dandelion. (Oh, so many sweet stories flood my mind of the wonderful things that have come to volunteers on or shortly after their time on Dandelion).