Work, Play and Learn!
Volunteers on Dandelion have the opportunity to participate in many kinds of projects that will serve sustainability in the world. While organic gardening, greenhouse work, alterna-building as well as art beautifications in several forms, are our main focus at present, we work together with the skills and interests of each volunteer to create this unique education facility. We welcome volunteers, to stay for 4 days to forever!
All who are interested in learning will have the opportunity to see, live with and interact within the exisiting established designs for sustainable living listed at the bottom of the page. Intelligent questions will be rewarded great information!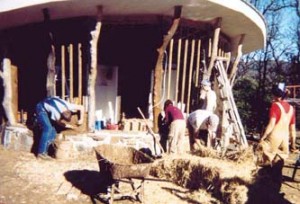 Left: Volunteers work together on the cobb bath house Reign of Grace  located in the central retreat area, Dandelion Ballad.
Beauty
Beauty speaks silently to the human heart. It inspires, heals and uplifts. Our use of  beautification on Dandelion Farm is specifically to do this. It is a call to the heart of humanity in its range from low to high of possibilities. It is a call to make higher choices, sustainable choices, for the sake of humanity and for its host, planet earth. And for us personally it is a pointer beyond limited mind/body awareness to the unspeakable Awareness of a greater Reality, "the Beautiful Itself".
Where Do We Go From Here? Fun with Names!

A centrally located

Sign of Things to Come

is in the main camping area:

Enchanted Encampment

directs visitors around Dandelion's 190 acres. From the meeting, eating, sleeping, house,

Hub of Happiness

, you can walk on the

Aerobic Trail

to one of the rain catchment and swimming ponds, Sea of Infinity

or to the

Lake of Dreams. After a rewarding day of working in the garden,

Not 2 is Green

, you can clean up in the cobb bath house,

Reign of Grace

.
left:

Luxuriating in heart deep contemplation is the theme and purpose of this sculpture

"Bed of Roses",

overlooking

"Metal Hymn"

garden temple.
VOLUNTEERING on Dandelion:
Volunteers from around the world join the farm family for work parties and internships, sharing their energy, enthusiasm and skills to help move Dandelion toward becoming a uniquely beautiful sustainable living institute.. Volunteers work in exchange for room and board  5hrs a day, 5 days a week. A food stipend of $50/week is offered to skilled interns, as well as garden produce as available. Volunteers prepare their own food, but sharing happening when possible. Skilled volunteers with long stay potentials have priority.
We work at a large variety of tasks, from gardening activities, to natural building, farm maintenance,  to welding and other art forms. A small volunteer kitchen is used by volunteers to cook. Most valued quality we look for in a volunteer is the spirit of service throughout the day, or self giving in help to the world while here on Dandelion. This attitude is similar the traditional practice of "karma yoga". In helping others we are enriched in many ways..
PLEASE email info@dandelionfarm.org for our volunteer information/ application.
QUALIFICATIONS: At least one farm volunteer experience or other volunteer
service experience in some area previous to Dandelion is important so that you know what its all about.
Volunteers must be able to cook for themselves. Having a car is extremely helpful.
Volunteers agree to be tobacco, drug and alcohol free while on the farm.

The SPIRIT of volunteering is the essential qualification for happy participation at Dandelion…
This is a project created altogether in the spirit of self-giving at a time when the world needs each person's help.
LONG STAY VOLUNTEERS: Internships… we offer food stipends of $50/week. for long stay volunteers who have spent a week with us and proven their skills and energy for our projects.

Here are some of the needed skills we are looking for:
garden manager and other hands on/manigerial skills
natural builder
computer help for the web (note all the glitches!)
handyman-fixer
vegan cook ( needs also art &/or garden skills)
wood working- construction
metal working – mig welding
trained permacultureist
painting and art skills
legal advisor
grant writer
camcorder photographer for documentary

WISH LIST for donation items:
Recycled building materials are greatly needed for Enchanted Encampment (mini educational ecovilliage campground with highly creative design):
Wood, any kind, Used or New
Windows, preferably double glazed
Roofing Materials
Pavers, Bricks, Tile, Wood Rounds
Greenhouse glazings
Gravel, Sand, Cement broken chunks ("urbanite") and other clean "fill"
Asphalt "Chippings" for parking space
Paint
Rice Straw for Cob, other mulch materials for gardens
The list is long …so please let us know what you have to offer!
Learn Sustainability by Living on Dandelion: Here you find a detailed list of most of the sustainably realated things you will experience and can learn about first hand on Dandelion:
–Resource Conservation is Primary here . We live in close relationship with the land that provides so much of our sustenance on Dandelion. We depend on our personal work and the farm's resources to provide much of what we eat, drink, and use for heat, cook with and run our kitchen. In so living we are connected with the sustainable future of the world. Living thus is a HUGE goad to responsible resource use and management. We are always aware of the need to CONSERVE all our resources, from water, firewood, toilet paper, food, fuels, electricity, etc. We constantly remind ourselves and others here of the urgent need to conserve and minimise our footprint on Dandelion and the world in our every day living. This is a learning challenge and opportunity for all Dandelion participants short or long, to gain green habits now and forever, and to pass these habits to others in service of our shared planet, earth.
–Housing: All living spaces large and small are of passive solar design, save the original ranch house (Huge Happening) and have natural wood heat. At 2 people per room/space there is sufficient year round living space for 20+.
–Natural buildings We are working on our 3rd natural cob building and will be experimenting further with recycled and natural materials as Enchanted Encampment,
our mini educational ecovilliage camp ground continues to develop in 2010.
–Repair shop: Being able to make, maintain and fix machiney and other useful things on the farm is another part of our efforts at sustainability. Over 30 years we have collected tools and equipment that are frequently used for these purposes.
–Alternative energies: There are photovoteyic solar energy systems for the host house and water pumping for drinking and irrigation systems for the whole farm. Wind power via our old Jacob wind generator will be resurrected for additional power. We are slowly moving entirely away from the grid, propane/natural gas use starting with the volunteer host house. We expect to experiment with methane generation for cooking and growing algae fuel. We plan to obtain or build our own bio-char cook stoves.
–Heating for Spaces and Water: Passive solar building design is the case for all buildings save the old original house. The passive solar heat is helped greatly by insulation and augmented by wood heat, burning prunings and fire reduction/harvested wood. This is for heating both living space and water through the use of interal coils or "heatilator" in the wood stove fire chamber for hot water. We enjoy this extremely effecient solar/fireplace hot water system in the host house. A solar/demand hot water system is installed on "Reign of Grace" Bath house.
-Free and Low Energy Refrigeration/ Cooling of Foods: In the host kitchen and in several other locations on Dandelion, north exposure – vented cool storage areas serve as refrigreration in winter or coolers in the summer for food storage. We also use a solar PV extremely efficient refrigerator in the warm months for garden produce. This chest style fridge can convert to a freezer in the winter when our larger pantry/coolers double as refridgerators. This fridge runs on 75 watts…unbelievable!
–Cooking: Although we use propane still, in cold weather we also cook and dry on an "airtight", efficient wood stove that provides heating, cooking and hot water simultaneously and is fuelled by on site sustainably harvested renewable firewood. The sun is generally abundant often even in the winter. When the sun is out for long we use our solar Photovolteic system to power electric cooking using a small electric oven, electric burners and other electric kitchen aids. We also enjoy cooking in a Sun Oven and a larger home made solar oven/solar drying combo made by great volunteers who were solar cooking fans.
–Food Preservation: Since we live almost exclusively from our gardens and orchards year around, we use cool vented storages areas for holding fruits and some vegetables that will keep for long season fresh eating, fresh cooking, and fresh juicing. Root vegetables are stored mostely outdoors in garden beds with heavy mulch protection from freezing, We preserve excess perishable summer food for off season use by freezing, canning, drying and fermenting.
-Fermentations and other cultures for preservation/food/health: Fermented foods is an art we have been developing for many years on Dandelion. Most foods want to ferment, and if not previously fermented before eating they often do that in the stomach. Fermenting food boosts digestibility, while helping preserve the food naturally as the ancients did. Use of fermented foods adds more probiotics for immune system resilience, production and absorbing of enzymes, and some vitamins, plus wonderful flavors. The list of fermented, cultured foods we make and enjoy is constantly growing. Amongst others it includes: slow/cool sourdough for optimally digestible bready foods, kombucha, kimchi, rejuvalac, koji for making miso, misos-various long and short non soy ( makes salt more digestible, adding vitas, enzymes and serves as a vegetable bullion), non soy tempeh, non soy natto, (an anti cancer, anti heart disease or stroke fermented legume dish),and occasional raw goat buttermilk..
–Greenhouse 60x30ft. "Chanting Frog"…with a cistern/ pool/heat sink, grows mostly fruit trees, spring starts, some vegies, shitaki mushrooms. Greenhouse addition, "Plant Lust" is 50x15ft. This used to be our perennial propagation area, but turned into a GREAT source of regular greens, even extra to sell.
–Greenhouse (small) "Fresh Start" is a big remake of our original little add on to the house for starting garden seedlings and propagating unusual perennials. Fresh Start provides solar heat gain into the host house/plant and art studio. The house area then radiates heat back into the small greenhouse at night, making for a superior start house, and a warm nook on cold sunny mornings.
–Nursery: We propagate larger plants, fruit trees, nut trees, vines and bushes. All new plants in the last many years have been carefully researched and selected for hardiness and disease resistance, for specific micro climates and permaculture niches on Dandelion. We layer, take cuttings, grow seedlings and later graft where necessary to constantly increase our perennial food production capacity. Much of our growing space in several areas around the farm has been fully planted. So our nursery area is now much reduced.
–Gardens are varied and many here. We live as much as possible from the main gardens "Not Two is Green", and "Vanished Gardens" that are deer fenced permanent bed, NO TILL demonstrations in progress. These contain, besides vegetables and some unusual perennial fruits. Our perennial fruits that produce abundantly are grapes (yearly juice pressing, concentrate and raisin making), apples and pear trees (yearly juice pressing for fresh addition to our green smoothies and freezing for latter smoothie making. We also concentrate and drying these fruits and their juices. Other productive perennials are: figs, quavas, cane berries, jujubees, currents, gooseberries, juneberries, cherries, peaches, persimmons, mulberries, asian pears, and more. Beginning to produce unusual fruits are: goji berries, quince, akebia, medlar and yellow-horn nut, etc. Still there are many more unusuals getting ready to produce, such as the che fruit and the viburnum family of fruits, pawpaws, etc. Our increasing soil fertility has made some of the harvests overwhelming and almost unmanageable!
Garden borders grow plants that support beneficial insects (to attract pollinating insects and keep bad bugs down). Medicinal and culinary herbs are scattered in many areas where they can grow best. We also include plantings for developing stable humus, carbon sequestration, and creating our own nutrient rich herbal plant fertilizersfrom comfrey and alfalfa, including some biodynamic helpful pants along the way. Permaculture principles are also used as we develop areas with permanent beds. Forest gardening is in progress and will show its development more and more as we (and nature) constantly spread our own local adapted seed to naturalize foods, flowers and herbs, while culling invasive weeds.
–Using Microclimates-Dandelion is zone 7 on the valley floor and zone 8 in the higher center. Greenhouses here are zone 8-9. This gives us a wonderful broad range of plants to work with. Besides variety, the dry, hot, sunny areas offer special opportunities, as do the low lands (some of which can be marshy part of the year). We consider and work with our options to maximize our production of food and fertility. The low lands are particularly valued for hardy perennials that can reach their roots into the high water table in a few years and produce without irrigation. The higher lands offer much extended warm season growing opportunities.
Vermiculture: Worms and worm compost is the best thing yet in soil fertility. This appears to be the best thing also for the future of agriculture. We have a long worm bin swarming with "Red Wigglers" "Tennessee Jumpers". The compost from this trial area proved quite amazing and we soon began a farm scale trial area with rows that are added to on one side and harvested from on the other with a tractor if necessary. The two types of worms are good for 1st the higher elevations of the soil and on top of the soil and 2nd the lower, deep garden layers. These latter Tennessee Jumpers move nutrients from the surface down as deep as 3 feet! This a great worm combination. We are also experimenting with adding much mulch to the garden paths to hold more moisture and encourage worm activity (nutrient production) next to the permanent beds.
-Seed Saving: We have, for many years, saved much of our own seed for many of our food staples and unusuals including some herbs and flowers. This is almost always on going visibly on the farm. We get abundant extra vigorous seed this way that are already, by having grown here, adapted to our micro climates/growing conditions. Another fun part of seed saving is that we are able, over years to develop our own varieties of plants specificly to meet our needs. Since 2010 we have been using much more rigorous seed saving principles and practices to make sure our seed are the very best possible.
–Walnut Orchard: Walnuts are used liberally in our diet, especially soaked and then dehydrated for yumminess and extra good digestibility. These form a much enjoyed and generous part of our diet in the form of walnut sweetened cream and fermented sour cream, walnut butter, walnut chunks in many foods (always processed the "anti nutrients" that make eating walnuts in quantity not a good idea.), Producing trees are almost yearly increased by grafting older established black walnut trees to English Walnut in June.
–Olive Orchard: We planted 27 olive trees in '06. Between them in the large spacing we added Jujubee trees (Chinese Dates) and Goji berries (in production '08) and some of the other unusuals, below. Open areas are no-till, cover cropped with experimental dry farmed staples.
–Unusual Food Trees and Shrubs: To increase food production, to learn and educate others about more food growing options, we constantly experiment with what we can grow here that will make Dandelion more sustainable. Some of our more unusual perennials include: Seaberries, Gooseberries and Currents, Goldenberry, Gumi, Autumn Olive, Trebazond Date, Jujubees/Chinese Dates, Russian Quince, Strawberry Tree, Aronia, improved Elderberries, Japanese Rasin Trees, Cornelian Cherries, Hardy Kiwi, Fuzzy Kiwi, Pomegranate, Barberry, Vegitable Bamboo and (and timber varieties), Prinscepia, Korean Cherry, Saskatoons/Juneberries, Honeyberries, Origan Grape, Siberian Pea Tree, Pawpaw, Chinese Haw, Medlar, Manchurian Peach, Korean cherry, everbearing Mulberries, Highbush Cranberry, fruiting Viburnums, Yellowhorn nuts, Hickory nuts, etc.
– Water, is becoming a serious issue for California. We have reworked our water catchment system 2 times since first digging. We have 2 large ponds, several vernal ponds and swales for rapid charging of the water table, many shallow wells, solar powered water pumping to houses, gardens, orchards, and large water storage tanks. Rain Water from roofs to cistern/catchments provide rain water year around for drinking. Ponds are stocked with fish and have a very healthy frog and crayfish population too, which all reserved for use ONLY in dire emergency. We eschew killing creatures and attempt to serve the natural balance of Dandelion via biodiversity.
–Woodland areas are thinned carefully to reduce the fuel density for fire safety on Dandelion. This is a sustainable way of providing wood for heat and cooking. Much of the farm, flat land and wooded hills, are left untouched as wildlife habitat. We will soon also be starting wood lots for extra firewood.
– Flatland Acreage/Grain Production/Dry Farming:: We are also experimenting with growing high carb/starchy foods. These are small plots of various grains and tubers, etc, grown to familiarize ourselves with what can be grown here to feed large numbers of people in an emergency situation. These experiments are also enabling us to acquire our own extra hardy, micro climate adapted bulk seed to plant larger areas in case this is necessary. We are working to familiarize ourselves more with "dry farming" that has been practised in this location by the early settlers until recently so that we can use much more acreage on Dandelion without increasing irrigation infrastructure and water use. We are also beginning to growing our own fertilizer/biomass to maintain soil fertility should we not be able to bring in outside improvements like manure, using comfrey, cardoon, nettles, and wild grasses, etc.
Much experimenting has already been done here with many grains, tubers, legumes, and seeds for emergency food production on Dandelion. Examples of starches/proteins we have experimented with so far: drought tolerant non hybrid corn (sweet corn3, flour corn3) , quinoa2, millet3, sorghum2, barley5, potatoes3 (and potatoes from seed2), Jerusalem artichokes, yacon, oca, sacred water lily, tepary beans, field peas, vetch, sesame seed, chia seed, flax seed, sunflower seed, naked pumpkin seed3, indian rice grass, and perennial seed producers such as mesquite (has a flavor like carob but is more cold tolerant)and Siberian pea tree and many more.
–Native Food: Over the years we have experimented with eating and using some of the native plants growing on Dandelion. These include several attempts at treating and using acorns, soap root, grey pine buds, manzanita berries (ripe and green), miner's lettuce, dandelions, plantain, cat-tails (tuber/rizomes, pollen, shoots), wild grasses, and local weeds like salsify, and dandelions to name a few. We have planted a tanin free burr oak we hope to graft onto older oaks for better acorns.
Wild foods are so delicious sometimes they have become a regular part of our diet and are no longer considered wild, as we begin to nurture these plants like our domesticated greens, etc, we see these plants become tender and delicious. We become more proficient in working WITH growing systems such as cultivating microbes and worms in the soil, encouraging volunteer plants (that happen a lot since we save seeds), watching plants for their their needs-closely observing what is happening with them, attracting insect balance and control with beneficial insect plants, native birds and amphibians. This process draws into a feeling connection to indigenous peoples and the ancients. We are involved in a process of discovery that is not just mental. It is more subtle relationship with nature, one of giving sensitive attention and caring.  their work once again in a new time with different minds and world perspectives, but still essentially the same work.
Art to Inspire: Much of the art on Dandelion, created to inspire higher, sustainable living choices is made of recycled metal, wood, paint and tile.
– Future projects need your help: Grey water systems, methane generation, algae growing for food and fuel…(we are getting close to starting this one), biochar cooking and heating stoves, unique architectureal designs for very small cob cabins and much more! Improving natural pests control with more bird/owl houses and pollination with orchard bee nests, and any other sustainable improvement you might think of!