by Candace Stolley
Bindu Jewelry, a collection of masterpieces, is the culminating work of 4 decades creative endeavor of artist jeweler Candace Stolley.  This unique art jewelry was developed through years of intensive experimentation and by the artist allowing her creativity to unfold by internal inspiration.
From 1966 the artist worked primarily in welded bronze because of the creative freedom this medium gave her. In 1991 Stolley spent a year on retreat at the Hermitage Ashram in Fiji of the the world renown Teacher, Samraj Adi Da. Shortly thereafter she noticed a great deepening in her creative process and a heightened sensitivity to every element of her jewelry design. This spontaneous refinement of her artistic sensitivity called for refined materials, new techniques and an intensely transformative process.
The resulting metamorphosis of Bindu Jewelry that you see here is crowned with precious metals and every kind of beautiful gem. But in the eyes of history Bindu Jewelry's greatest achievement will probably be its mastery of unique welded bronze jewelry techniques Stolley began to develop in the late '60's, exploring these exhaustively for 4 decades. Now after 40 + years the artistry of Bindu Jewelry's Bronze Collection stands unsurpassed in the world.
Bindu Jewelry (precious metals) was featured in ORNAMENT magazine, America's top art jewelry magazine, Fall 1997.

Goddess of Pearls Necklace is one of many Bindu
Jewelry creations modeled in the new Picture Magazine.

Navigation arrows at bottom of each page will lead you
though many new pages of playful fashion, highlighting
more of Bindu Jewelry
Photographer – Line Oddland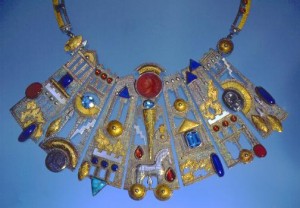 At the Gates of Troy
Necklace
24k gold on sterling silver, carnelian
and hematite intaglios, ancient coin,
lapis, blue topaz, garnet, turquoise 
7½" x 5″
$25,900
Modeled in Picture Magazine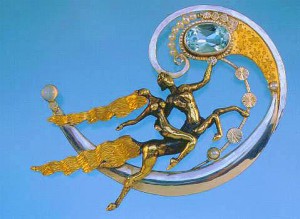 Let us Fly as One Broach
24k gold on sterling silver, fused
bronze figures, blue topaz, pearls,
moonstone
 3″ x 2″
$2,350 SOLD
Ancient Powers 
Pendant/Broach
24k gold, sterling silver with
azurite and malachite, blue topaz
, tourmaline, iolite 
1¾" x 3¼"
$2,590. This is an inspired representation of a bliss filled experience one day on Dandelion Farm…. link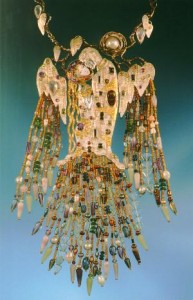 The Kiss
Necklace
24k, 22k, 14k green and pink golds, sterling silver green and pink diamonds, pearls, lapis, rose quartz, amethyst, iolite, ruby, pearl, assorted stone beads
Enameled face by: Mona Sabado
main body 6″ x 5″
$18,900
Modeled in Picture Magazine
Artist's Statement
It is no mental or verbal abstraction, this tangible energy that pulses from heart to hand and into my art work.  My participation with this energy is the essence of my creative process. While working I constantly feel with my heart toward this energy or spirit, this feeling of love and beauty. What I choose at each step of my creation is based on what resonates in my heart. I choose what magnifies the energy of love there, thus allowing love to guide my creative choices. It is an ecstatic process. My art work is the visible language of my being.
The purchase of Bindu Jewelry directly supports Dandelion Farm, a service project dedicated to furthering environmentally benign solutions to mankind's basic needs through demonstration and education: sustainable farming, alternative energy, natural building, natural healing, and the arts: www.DandelionSustainabilityFarm.org

Bindu Sculpture Park on Dandelion Sustainability Farm