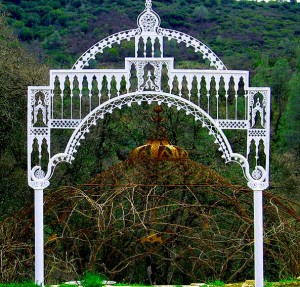 The center of Dandelion is a very large area all fenced against deer with high plastic mesh, which has already outlived its expected age and is starting to struggle.  Why not make  art  fencing! The fence is about 1,500 linear feet….a LOT to do in art, but that may happen  some day….Meanwhile its a great place to put all kinds of scrap metal made into compositions of mostly lessor quality while improving the fence and training any new welder want-to-be.
The ART WALK alone will soon be worth a visit to Dandelion. This will be a periphery trail to enjoy all the fence panels.
Today's work was inspired by yesterday's reorganizing a pile of the metal junk. Its named "Take Out the Trash!"….That's what this section of fence will be made of…the least desirable metal scrap….a fun challenge to make it artistically interesting while deer proof.
Much of our larger metal art is based on left over metal scrap from one of our neighbors very different metal work. Larry Sloan is a builder of unique qualities. He adds beautifully made metal hinges and brackets all over his building work, creating a unique strong beauty….and lots of left over negative metal cutouts.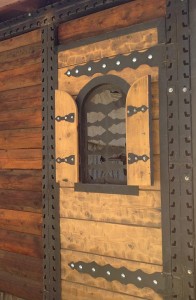 Here is Larry's grand goat barn, a real BEAUTY. You will thus also see the positive metal parts he made while giving Dandelion his left overs. He goes to much special effort to make his left overs well arranged and especially useful and even beautiful in themselves so that we can make something beautiful from his scrap for Dandelion.
The white lacy arch with Larry, his wife, Lonnie, and their dogs beside it, was made for the center of Dandelion almost entirely of Larry's left over negative metal cutouts. This is quite a special way our neighbor is helping in the creation of Dandelion!
On Larry's property there is an old orchard that the previous owners fenced with hundreds of old box springs and bed frames. There was something very cool about that junk fence. It was the inspiration for using junk as art for our fence. We even found an unwanted box spring bed frame for one of our fence panels! This  junk fence inspiration was another unique gift from our wonderful neighbors, the Sloans.
We have a couple hundred feet of art fence done now and will have to post pictures soon to share the varieties of art work from scrap and junk metal that are becoming the "Art Walk" on Dandelion. Stay posted!